2022 Grand Wagoneer vs 2022 Wagoneer
2022 Grand Wagoneer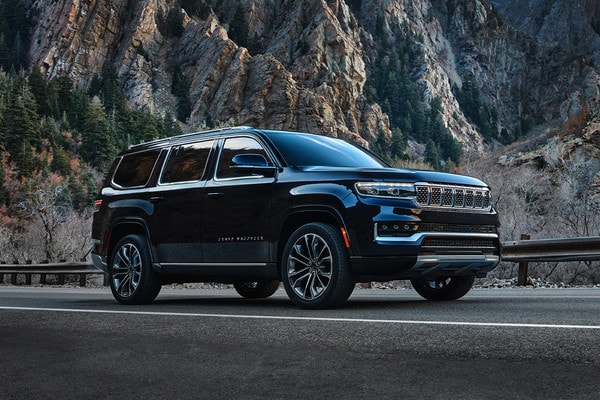 2022 Wagoneer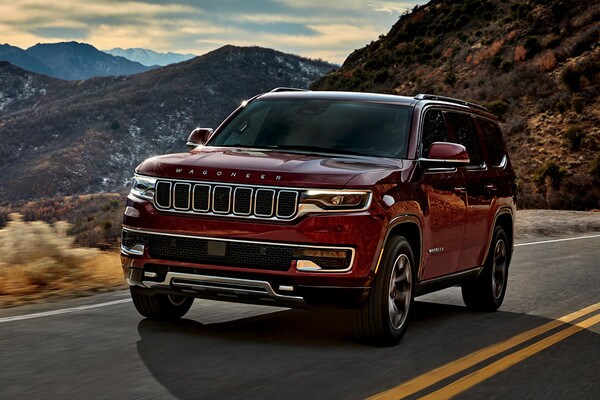 2022 Grand Wagoneer vs. 2022 Wagoneer
At Pothier Motors, we stock the latest models from the Jeep lineup to deliver the best selection of vehicles to our customers in the area. We also support our customer's ownership experience every step of the way, starting with their first oil change after purchase at our Service Centre. Our goal is to meet all of your automotive needs, so if you need anything, make sure to schedule a service appointment, and our experts will take care of you and your vehicle.
Comparison: Exterior, Performance, & Features
If you are interested in buying a new full-sized Jeep SUV, the 2022 Jeep Wagoneer and the 2022 Jeep Grand Wagoneer might be on your shortlist, and you might be curious about the differences between them. In general, they are the same size and shape, but the Grand Wagoneer is more expensive and comes with higher-end features and design elements to make it feel more like a luxury model. The exterior is largely the same in terms of appearance, with the Grand Wagoneer getting some extra touches like more chrome and a fancier hood. Both SUVs use a V8 engine with cylinder deactivation, and Wagoneer's version also has a mild-hybrid system. The Wagoneer's engine is rated at 392 horsepower, and four-wheel-drive drivetrains are standard on both SUVs. For the Grand Wagoneer, the drivetrain gets 471 horsepower, which is a big step up. However, the Wagoneer can tow a bit more weight. For features, the Grand Wagoneer has access to higher-level sound system upgrades, quad climate control zones, and more touchscreen real estate, all of which the Wagoneer lacks.
Interior Features: Comparing 2022 Jeep Wagoneer Vs 2022 Jeep Grand Wagoneer
The Grand model also has a more upscale interior, with more leather and wood than the Wagoneer. Since they are the same size, they share the same interior space for passengers and cargo in the back. Where they differ is in the layout and format of the three rows. As a full-size SUV, both the Wagoneer and Grand Wagoneer have three rows. However, the base configuration seats eight people in the Wagoneer by using a bench for the middle row. You can upgrade this bench to captain's chairs, which reduces the capacity to seven. For the Grand Wagoneer, the opposite is true: the default configuration uses the captain's chairs, and you can make an optional upgrade to swap it out for the bench to increase the capacity to eight. This has the effect of making the base Grand Wagoneer feel a bit roomier, but both models can reach the same two configurations.
Standard Features Comparison: 2022 Jeep Wagoneer Vs 2022 Jeep Grand Wagoneer
The two Wagoneers have an extensive list of standard features, such as Uconnect interfaces, Jeep's infotainment and connectivity software. There are three displays across the first two rows on the Wagoneer, and the Grand Wagoneer has seven displays. In both vehicles, the seats have power adjustments, heating, and ventilation features. Although these SUVs are luxury models, they still live up to the Jeep name and are fully capable of offroading. Both are equipped with off-road-friendly features, such as hill descent control, a limited-slip differential, terrain management, and more. Both of the SUV's base engines are strong enough for lots of fun on the trails, and the build quality is tough and durable. Both vehicles come with plenty of driver assistance features, like forward collision warning and adaptive cruise control. In addition, the Grand Wagoneer has some exclusive colour schemes: Midnight Sky Blue, Rocky Mountain Green, and Ember Red.
Contact Us
Contact us if you want to learn more about these new Jeep SUVs. Our new Jeep inventory has other models available, giving you an array of options for your next vehicle. Our dealership can assist you with financing, get you out on the road for a test drive, and generally help you from start to finish at any point of the purchase process. We know that our customers will be excited to see what these new models from Jeep are like, and we look forward to helping you enjoy them.
Make an Inquiry
Pothier Motors Limited

18 Falmouth Back Road
Falmouth, NS B0P1L0